Reps: What are your recurring regular reps and how to do it with AI
PODCASTGROWTH TACTIC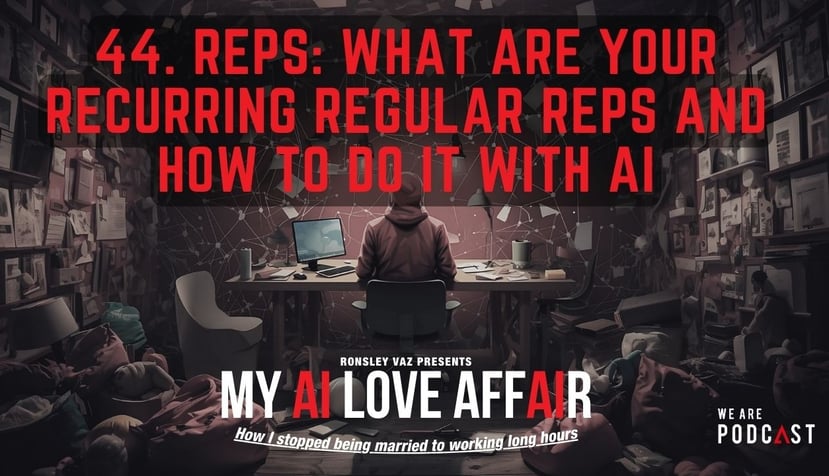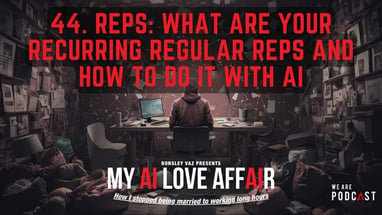 Learn how to perform regular recurring reps and the importance of consistency in your business
In this episode, I explore the concept of recurring regular reps and how to implement them using artificial intelligence. I believe that consistency is crucial in business relationships, and having predictable and reliable interactions with clients can lead to numerous benefits. I discuss the aim and outcome of recurring regular reps, along with three common mistakes to avoid and three principles to execute the tactic correctly. Additionally, I outline three steps to effectively perform recurring regular reps and provide three AI-generated prompts to help execute this tactic. Imagine your business as a well-oiled machine—wouldn't you want it to be as predictable and reliable as your morning cup of coffee? Dive into this episode and find out how making 'regular recurring reps' can do just that for you.
In this episode, you will:
Understand the effects of negligence, over commitment, and a generic approach as mistakes to avoid in your regular recurring reps.

Learn to tell the aim and outcome, three mistakes to avoid, three principles to execute, three steps to execute the tactic, and three GPT prompts that will help execute the tactic effectively.

Take a deeper look into the principles of quality over quantity, documentation and review, and authenticity in executing the growth tactic.

We answer a question about automating aspects of the growth tactic without losing the personal touch.

Rethink your value metrics and the importance of lead measures over lag measures in tracking the effectiveness of your recurring reps.

Understand the importance of adding value, personalizing client interactions, and surprising and delighting your clients during recurring reps.

Hear us talk about the process of scheduling, preparing, executing, and following up on your regular recurring reps.

Learn how to find joy and play in performing your regular recurring reps and the positive impact it can have on your business.

We talk in-depth about using artificial intelligence to brainstorm and execute regular recurring reps efficiently and at speed.
Tune in to the episode right here! https://myailoveaffair.com/. Find out more at https://aigeeks.co
All this and more, on this episode of My AI Love Affair.
If this is the first episode you've listened to all the way to the end, or if you are a regular, thank you … I love that you are here. Check out our back catalogue on myailoveaffair.com, subscribe to the show and give me a rating; it helps us unite the AIGeeks like you.
If you are a business owner that wants to use AI to make business easy and wants to find others just like you in a group where we share tactics & ideas on what's working (or not) for us when it comes to using AI in the best possible way… go to aigeeks.co/discord … it is free.
Stay tuned for the next case study about Unleashing the Power of AI for Creative Entrepreneurs with Dan Martell. So, don't forget to subscribe to the show to get that episode as soon it gets released. Until then, much love.