Optimising MidJourney AI for unique brand images [Growth Tactic]
PODCASTGROWTH TACTIC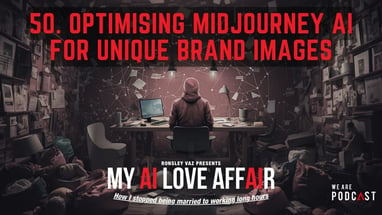 Learn how to prompt MidJourney AI to generate unique, brand-aligned images
In this episode of My AI Love Affair, I dive deep into the fascinating world of MidJourney AI and its capability to generate unique, brand-aligned images. I break down the aim and outcomes of leveraging this growth tactic, discuss common mistakes to avoid, and share principles for executing this tactic effectively. I guide you through a step-by-step process, from initial research and crafting the prompts to refining based on feedback. I also share intriguing examples from my own experience, illustrating how specific, well-crafted prompts can yield compelling results. This episode is packed with practical insights and prompts to help you align AI-generated images with your brand's visual identity, fostering increased engagement and customer loyalty.
Coming up in this episode:
Understand the effects of specificity, brand alignment, and iterative testing on AI-generated images.

Learn to tell a compelling brand story through AI-generated images.

Take a deeper look into the common mistakes to avoid when using AI for image generation.

The key metrics to measure the effectiveness of images generated by MidJourney AI.

Rethink your value in terms of visual identity and user engagement.

Understand the importance of aligning AI-generated images with your brand's visual identity.

Hear us talk about the process of crafting effective AI prompts.

Learn how to find joy and play in the creative process of AI image generation.

We talk in-depth about refining and improving AI prompts based on feedback and performance
All this and more, on this episode of My AI Love Affair.
If this is the first episode you've listened to all the way to the end, or if you are a regular, thank you … I love that you are here. Check out our back catalogue on myailoveaffair.com, subscribe to the show and give me a rating; it helps us unite the AIGeeks like you.
If you are a business owner that wants to use AI to make business easy and wants to find others just like you in a group where we share tactics & ideas on what's working (or not) for us when it comes to using AI in the best possible way… go to aigeeks.co/discord … it is free.
Stay tuned for the next episode because it's a case study about The Intersection of AI and Empathy with the legendary Gary V. So, don't forget to subscribe to the show to get that episode as soon it gets released. Until then, do what you love. Love what you do.