Nature's Algorithm feat. Jean-Philippe M.L. Schepens van Thiel
PODCASTCASE STUDY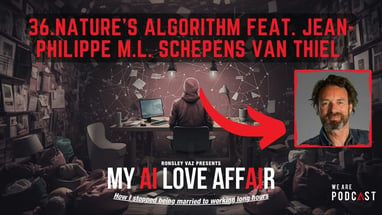 Learn how to find new routes where no one has ever been before on the AI level
Are you curious about the blend of nature's intelligence with the astonishing world of Artificial Intelligence? Well, this episode is nothing short of a revelation. I had the honour of talking to Jean-Philippe M.L. Schepens van Thiel, the founder of axonjay.ai. Not just another tech guru, Jean-Philippe is also an avid ornithologist. Yes, you heard that right! Bird-watching meets AI—how cool is that?
Schepens van Thiel emphasized the importance of simplicity and creativity in developing effective AI solutions. He stressed the need to align human intelligence with artificial intelligence to achieve the best outcomes. We also discussed the work of axonjai.ai and how they predict the behaviour of companies based on their ecosystem.
Here's what you'll take away if you tune in:
Using nature as an inspiration for AI algorithms.

Predicting the behaviour of companies based on their ecosystem.

Mapping everything to make things simple.

Making your map multi-dimensional by talking to people.

Rethinking and coming to the essence and simplicity.

Ethics and the impact of AI.

The future of AI and its impact.

Practical advice for business owners.
Listen to the full episode to immerse yourself in this captivating conversation and gain a deeper understanding of the fusion between nature's algorithm and Artificial Intelligence.
Links and Resources:
Tune in to the episode right here! https://myailoveaffair.com/
If you know a business owner that needs to hear an episode about why AI will easily be the biggest conversation of our lifetime, please share an episode with them.
Pretty Please. Enjoy the show.
If this is the first episode you've listened to all the way to the end or if you are a regular, thank you … I love that you are here. Check out our back catalogue on myailoveaffair.com, subscribe to the show and give me a review and rating, it really helps us unite the AIGeeks like you.
If you are a business owner that wants to use AI to make business easy and want to find others just like you in a group where we share tactics & ideas on what's working (or not) for us when it comes to using AI in the best possible way… go to aigeeks.co/discord … it is free.
The next episode will be a Techstack on where to begin. So, don't forget to subscribe to the show to get that episode as soon it gets released. Until then, do what you love. Love what you do.