Teaching AI to write just like you feat. Amy Yamada
CASE STUDYPODCAST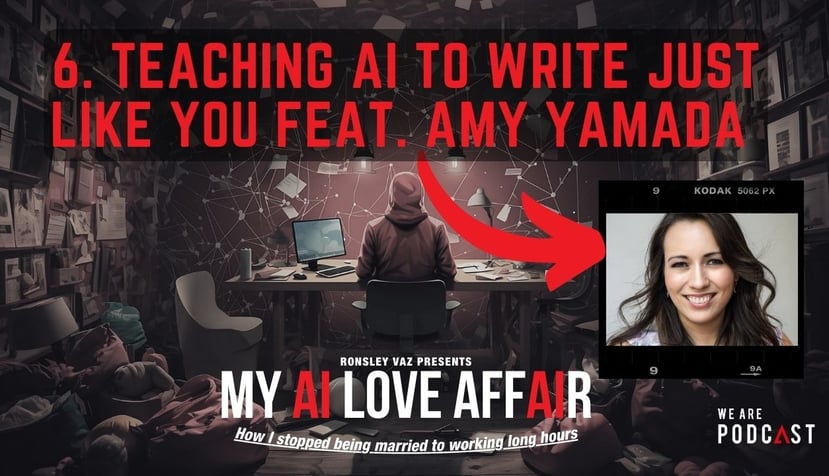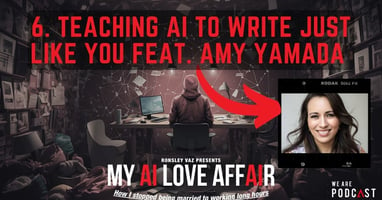 Learn how to implement AI to amplify authentic messaging
Have you ever considered integrating AI into your business to save time and increase engagement? I recently had a chat with my good friend Amy Yamada about how she's successfully used AI to improve her messaging and authenticity. The key takeaway? Use AI to amplify your voice, not replace it. Your brand voice remains unique and authentic by teaching AI to speak and write like you. Plus, it'll free up time for higher-level tasks and increase productivity. Sounds pretty cool, right?
Coming up in this episode …
Introduction of Amy Yamada and her Journey with AI

We dive into Amy Yamada's journey with AI and gain insights into how she evolved her perception of AI and the business operations it can enhance.

Misconceptions about AI

Misconceptions about AI can hold businesses back from exploring its potential to enhance and amplify authentic voice and messaging.

Business operations to target for implementing AI

Identifying the business operations that can benefit from AI implementation is key to enhancing and amplifying authentic voice and messaging.

Using AI for marketing and authenticity

Using AI for marketing and communication can be a game-changer in amplifying and enhancing authentic messaging. Still, it's important to remember that it should never replace the human touch and the relationship-building aspect of a business.
Check out Amy Yamada at https://amyyamada.com/. You can learn more about marketing using AI with Authenticity.
Key Takeaways:
AI can be used to amplify and improve authentic voice and messaging

Don't just use AI for productivity; focus on bringing authenticity and humanity into it

Start small and focus on one aspect of communication to implement AI

Keep it simple and focus on ROI

Don't let AI replace your authentic voice and brand

Use AI to save time, money, and energy in marketing and communication

Building relationships is vital in business, and AI can enhance that
All this and more, on this episode of My AI Love Affair.
If you know a business owner that needs to hear an episode about why AI will easily be the biggest conversation of our lifetime, please share an episode with them. Pretty Please. Enjoy the show.
If this is the first episode you've listened to all the way to the end, or if you are a regular, thank you … I love that you are here. Check out our back catalogue on myailoveaffair.com, subscribe to the show and give me a review and rating; it really helps us unite the AIGeeks like you.
If you are a business owner that wants to use AI to make business easy and wants to find others just like you in a group where we share tactics & ideas on what's working (or not) for us when it comes to using AI in the best possible way… go to geeks.co/discord … it is free.