AI and Identity: How to Preserve Your Authentic Voice feat. Ken Droz
PODCASTCASE STUDY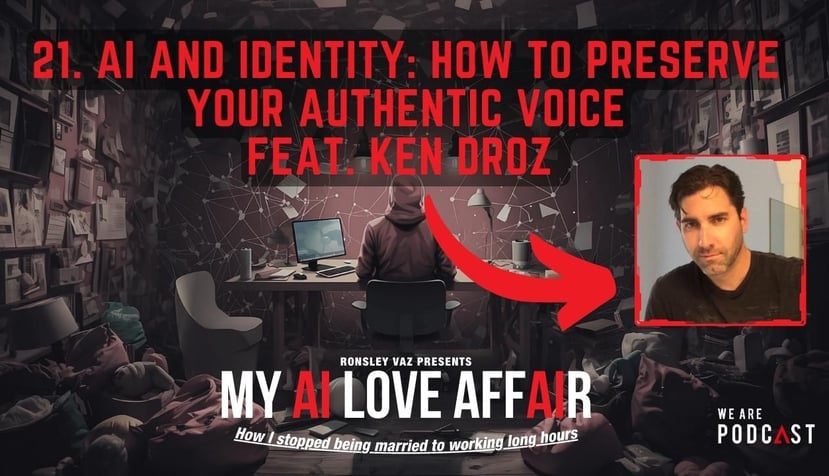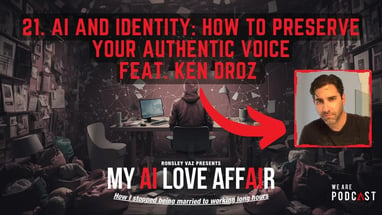 Today, you are meeting Ken Droz, a coach and expert in AI technology. He has been an influential figure in Amy's works, especially in the AI-aspect. If you don't know Amy, she was our previous case study guest.
My conversation with Ken centered on the impact of AI on personal and professional identity, and how to preserve your authentic voice in an increasingly automated world. He aims to bring a human element into the AI landscape and help individuals understand how AI changes the workforce and their identity.
Meet Ken
Ken shares his experience with AI in the coaching space and how he's been helping people find their authentic voice.
Impact of AI on Identity
Ken discusses the impact of AI on personal and professional identity, and the challenge of holding on to the limitations we've known. What the potential benefits and risks of AI are, and the need for guardrails to protect against harm and empower us.
Content Generation and Authentic Voice
Ken highlights the role of AI in content generation and the importance of preserving your authentic voice. He goes deep in the opportunities and challenges of using AI to create content that reflects our values and beliefs.
Key Takeaways:
AI has the potential to revolutionize the way we live and work, but it also poses risks and challenges to our personal and professional identity

The need to preserve our authentic voice in an increasingly automated world is more important than ever

AI can be a powerful tool for content generation, but it requires careful training and monitoring to ensure that it reflects our values and beliefs

The potential benefits of AI therapy to provide unfiltered support and care are enormous
Get to know Ken Droz on Twitter! All this and more, on this episode of My AI Love Affair.
If you know a business owner that needs to hear an episode about why AI will easily be the biggest conversation of our lifetime, please share an episode with them. Pretty Please. Enjoy the show.
If this is the first episode you've listened to all the way to the end or if you are a regular, thank you … I love that you are here. Check out our back catalogue on myailoveaffair.com, subscribe to the show and give me a review and rating, it really helps us unite the AIGeeks like you.
If you are a business owner that wants to use AI to make business easy and want to find others just like you in a group where we share tactics & ideas on what's working (or not) for us when it comes to using AI in the best possible way… go to aigeeks.co/discord … it is free.
Next week, we're having a Tech Stack Episode. We cover the difference between machine learning and deep learning. So, don't forget to subscribe to the show to get that episode as soon it gets released. Until then, do what you love, love what you do.